Fresh Flavor for 520 Chef's Table
"Each dinner tells a story in and of itself."
Executive Chef Clive Berkman enjoys telling stories with food, and Garden Court Hotel's 520 Chef's Table offers a unique opportunity for Chef and his team to get creative with the storyline.
"I learned through classical application using techniques from all over the world. When we're planning a dinner, we look to local sources for the ingredients, and the fresh ingredients inspire the dishes," Chef Berkman says. "I then tell the story through words and through the food. I speak to the guests and share the techniques that were used, the sources for each ingredient, and the process we went through in creating the menu."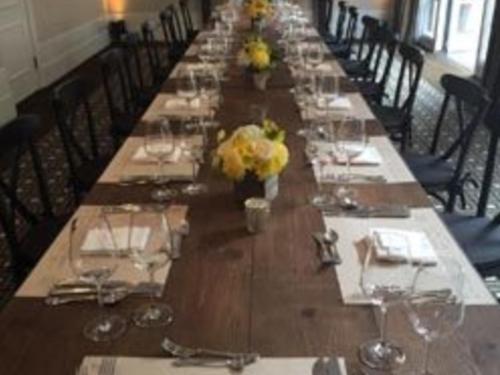 Chef and his team have refined these techniques through over a dozen 520 Chef's Table dinners, introducing guests to a variety of cuisines. "The Chef's Table approach at Garden Court Hotel has allowed us to feature local ingredients while exposing people to different styles of food each month," says Chef Berkman.
For our June special event, we're excited to bring foodies throughout Silicon Valley a brand new format for 520 Chef's Table. The menu for each exclusive dinner at our hotel will be designed to feature a specific theme. On June 18, guests will be treated to an entirely vegan menu, a challenge that Chef and his team are looking forward to.
"We wanted the menu to be vegan, and we wanted it to be flavorful," Chef says. "The best part has been coming up with a menu that flows and has a variety, but still has the right textures. Since these dishes won't include meat, we've had to use lots of texture elements to create something special."
The new format for 520 Chef's table also includes a new pricing structure. Guests can now enjoy the culinary artistry of Chef Berkman and his team for $65 per person (plus applicable taxes and fees), another aspect that Chef is excited about.
"We want to share the 520 Chef's Table experience with as many people as possible," Chef says. "The more we grow the Chef's Table, the more our team gets the experience of presenting them."
Chef also shared a quote from a fellow chef to sum up the goal of the newest chapter in the story of 520 Chef's Table. "I'll never forget Wolfgang Puck said when he started 'I want my restaurants to deliver more than I charge for.' We want our guests to feel they get a great value."
We hope you'll join us Thursday, June 18 at Garden Court Hotel in downtown Palo Alto to experience a fresh new flavor for 520 Chef's Table!
Check out the delicious all-vegan menu and purchase tickets online.