July 520 Chef's Table Draws "From Local Waters"
For our June 520 Chef's Table, Executive Chef Clive Berkman and his culinary team unveiled a new format for our hotel's farm-to-table fine dining series. Each dinner event features a unique theme, along with a new price point of $65 per person.
For July, Chef is planning a seafood-focused menu titled, "From Local Waters", featuring fresh catches from the Bay Area and along the California coast.
"We'll have fresh seafood in every course, except dessert, of course," Chef says. "A few of the courses will be finalized within hours of the dinner based on what's fresh and available."
Many of the farm-to-table flavors will also come from local San Francisco peninsula-area farmers.
"I'll take in whatever vegtables are available to accompany the seafood dishes on the menu," Chef Berkman added. "As we do with all of our Chef's Table dinners, we'll supplement the menu with the vegetables we get fresh produce from local farmers."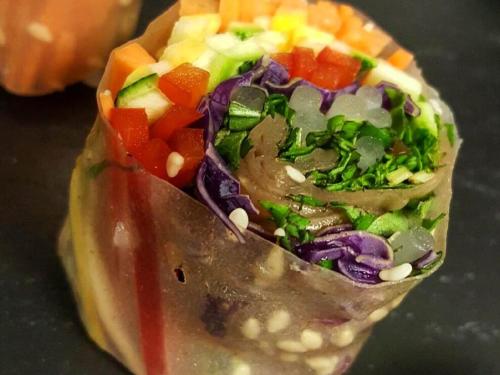 Chef Berkman also points out that guests typically enjoy more than the courses on the published menu.
"For our vegan dinner we added three 'surprises' that weren't on the menu. Guests will usually get two or three extras based on the fresh culinary ingredients we have available to us."
Featured wines are an integral part of the evening, and are also influenced by the fresh ingredients. Keeping with the local theme, Chef Berkman looks to California wineries as often as possible for featured wine pairings.
"We have hundreds of top, award-winning wineries here in California, so I typically look within the state, supporting the local wineries as much as we can."
We hope you'll join us for "From Local Waters" on Thursday, July 16 at Garden Court Hotel in downtown Palo Alto! View the special event menu below, and make reservations online.


JULY 16 MENU
Passed Hors d'oeuvres
Smoked salmon parfait with dill oil
Amuse Bouche
A Rainbow for caviars with bilinis and crème fraiche
1st Course
Seafood chowder with summer squash
2nd Course
Roasted salmon with zucchini yogurt and dill
3rd Course
Pan seared patrale sole with spaghetti squash and aromatic crème
4th Course
Sea scallops with grapes and verjus
Grilled calamari