Meat Me at the Chef's Table September 17
Garden Court Hotel Executive Chef Clive Berkman and his culinary team rolled out a new format for our 520 Chef's Table fine dining series beginning in June. The monthly farm-to-table dinners have each featured a specific theme, with vegan cuisine, seafood, and tomato-focused menus so far this summer.
"The response to our new format has been tremendous so far," says Chef Berkman. "Our guests have really enjoyed the themed menus, and the $65 price point has been a factor, too."
For our September dinner, "Meat Me at the Chef's Table," Chef Berkman's pre fixe menu will feature a selection of meats ranging from lamb to free-range venison.
"As September arrives, we're coming into the fall months, so that naturally dictates a menu that's a bit heavier than what we've done during the summer," says Chef. "We're looking forward to a variety of flavors - lamb, wild game, and beef, among others."
As always, fresh fruits and vegetables from local farmers will be a key part of the menu, with unique flavor combinations based on available ingredients.
"Once we have the meats, we look at what's available for accompaniments," Chef Berkman says. "We'll find out what's fresh from our local farmers and select flavors to complement the meats we have on the menu. For a fruit salsa, for example, you're entering the tail end of the summertime. Whichever fruits are available, we'll use those in the salsa, so local availability leads the menu."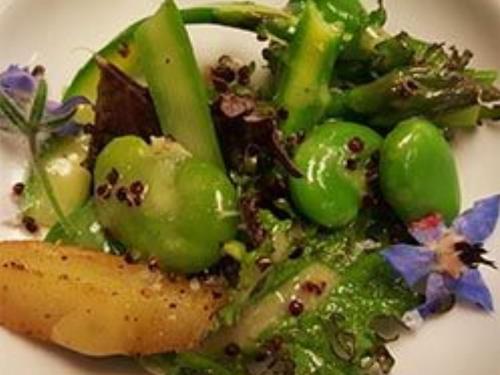 While a unique selection of meats forms the foundation of the menu, Chef Berkman points out that guests will still enjoy a lighter side, too.
"We'll always sneak a salad into the menu to cleanse the palate. We think of salads in this country as something to be served before the meal. The rightful place of the salad is after you serve the main course or courses, which prepares you for the final courses and dessert."
When planning a multiple-course meal, Chef and his culinary team look at the big picture of how the courses fit together.
"It doesn't matter what you're serving. It's always a progression of flavors," Chef says. "Typically you go from light to heavy, using the lighter meats and seafoods in the early courses, then moving toward more substantial dishes."
The progression from lighter to heavier applies to wine pairings, too.
"The same thing happens with wines," Chef added. "You serve lighter wines before the more robust wines. Your palate gets distorted with a full-bodied red wine with intense flavors. If you follow that with a lighter bodied wine, the flavors can be reduced to basically nothing, so again, it's a progression of flavors and textures."
We hope you'll join us in downtown Palo Alto for "Meat Me at the Chef's Table" Thursday, September 17. Click here to purchase tickets online.

September Menu
Passed Appetizers
Watermelon and tomato Shooters
Grilled oysters, spinach and fennel
Grilled scallops with honey mustard and bacon Amuse Corn chowder
Course 1
Blackened and grilled shrimp, fruit salsa and feta
Course 2
Grilled boar and venison sausages
Braised cabbage warm bacon and beer potato salad
Course 3
Grilled Leg of lamb with farro grilled green tomatoes and yogurt
Course 4
Charred Kobe ribeye with yucca hash browns
Dessert
Pineapple upside down cake, served with salted caramel sauce and cinnamon spiced whipped cream