"Vegetarian" - November 520 Chef's Table
Back in June, Executive Chef Clive Berkman unveiled a new format for 520 Chef's Table, our monthly farm-to-table dining series held the third Thursday of each month. In addition to specialty cocktails, featured wines, and of course, exquisite cuisine, each dinner would now follow its own theme.
The June dinner featured an all-vegan menu, a unique challenge that Chef Berkman and his culinary team were happy to accept.
"We wanted the menu to be vegan, and we wanted to create something special," Chef recalls.
It's safe to say they succeeded. The response to the sold-out dinner was tremendous, and Chef Berkman and his team will be revisiting the meatless theme with an all-vegetarian menu for November.
"A vegetarian menu gives us a broader palate to draw from," Chef says. "Pastas tend to fit well with a vegetarian menu. Rice and risotto are also excellent complements."
Following the traditional practice of working with local farmers, November's menu will once again showcase local ingredients.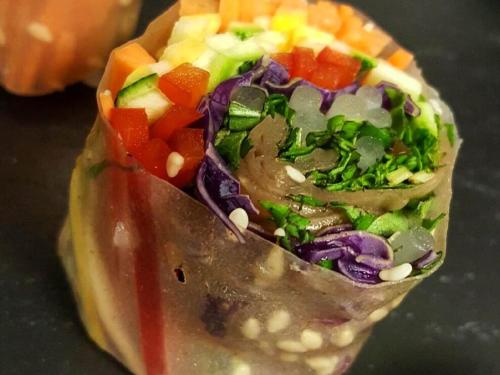 "It's a different time of year now, so we're dealing with a different product than we had avaible this summer," Chef says. "We're into the root vegetables, potatoes, sweet potatoes. Kale is also coming into play. Whatever our local farmers have, that's what we'll focus on."
So how does Chef define vegetarian vs vegan?
"I'm adopting an attitude that you're essentially eating a plant-based diet while including dairy products and eggs," says Chef.
"The approach will be similar to our June dinner in many ways, but we'll have a greater amount of options open to us."
Following a string of sold-out dinners this summer, Chef Berkman and his team expanded the October dinner to accommodate additional guests, which is something he's excited about.
"We're seeing these dinners growing, and I'm really hoping that what's happening is that the word is getting out," Chef says. "If it's a theme that helps bring people in, that's great, too. We're just happy to see so many people enjoying them."
Chef Berkman also mentioned that the success of 520 Chef's Table has led to several recent private Chef's Table events as well.
"We've also hosted a number of private Chef's Table dinners," says Chef. "I'm doing a special one for a wedding rehearsal coming up. I worked with the bride & groom to create all of their favorite dishes. It makes it personal, and allows them to share favorites with all of their guests."
We hope you'll join us Thursday, November 19 at Garden Court Hotel in downtown Palo Alto to experience Chef's delicious all-vegetarian menu for 520 Chef's Table. Click here to make your reservation online.

November 19 Menu
Passed Hors d' Oeuvres
Ratatouille crostini with fried shallots
Pickled vegetable spring rolls with thai chili peanut sauce
Amuse Busche
One one one: Trio of chilled zucchini, corn, and heirloom tomato
Family-Style Dishes
Butternut squash and thyme souffle
Grilled zucchini with Serrano and tomatillo salsa
Carrot and bean salad with carrot vinaigrette
Roast beets with kale and arugula
Open ravioli stack with grilled vegetables
Polenta with forest mushrooms
Roast cauliflower with quinoa peanut curry and dates
Creamy grits with squash